Struggle and Survival:
Epidemics and Pandemics in Hamilton 1850 to 1965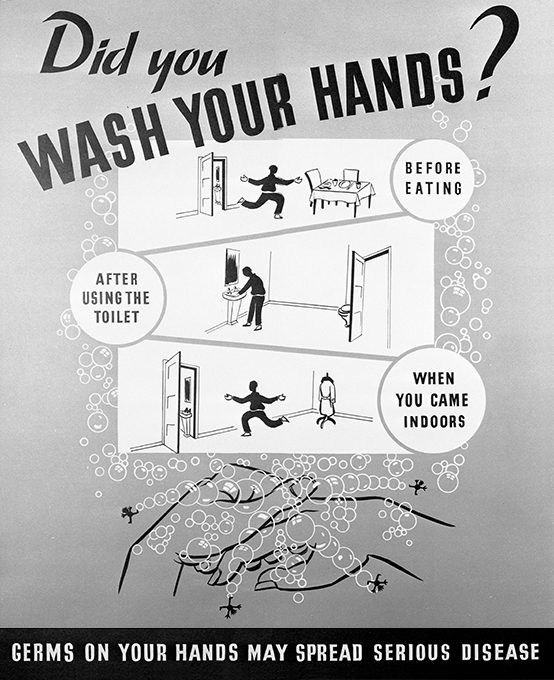 Poster courtesy Provincial Archives of Alberta, J.312/2".
This is the story of how Hamilton experienced epidemics in the 19th and 20th Centuries. There was struggle and survival. There was loss but also legacy.
Most microbes are perfectly harmless and we go about our daily business not even knowing they are there. Some are even essential for our survival.
But a handful can cause epidemics and pandemics. Across time, they have had profound impacts on human societies.
Epidemics are not inevitable or even natural disasters, although societies sometimes seek culprits, placing blame on someone or something. Rather, diseases can exist in small areas and populations for years before suddenly bursting out to impact the whole world. When this happens, it is the result of social, political, cultural and environmental factors in particular times and communities.
Just as these factors shape the new epidemic, so the epidemic shapes the community. Epidemics illuminate life in Hamilton at a particular time. They leave clear impacts on the city. Some we hold within us such as our attitudes towards remembering the dead, treating the sick, accepting newcomers, and what we expect governments and other institutions to do (and not do). Other legacies can be very concrete such as monuments but also civic institutions like hospitals, public health services and water and sewer systems.
Explore
Plan your visit to relevant historic sites and museums:
A Sufficient Quantity of Pure and Wholesome Water: The Story of Hamilton's Old Pumphouse.
James, W. A. (1978), London: Phelps Publishing Co.

Find it at a library near you on

WorldCat
Before 'The San': Tuberculosis in Hamilton at the Turn of the Twentieth Century
Ch
2
olera: Hamilton's Forgotten Epidemics
Herring, D. A. and Battles, H. T., ed. (2012)

Access it on

MacSphere
Epidemics and Society from the Black Death to the Present.
Snowden, F. M. (2020), New Haven: Yale University Press

Find it at a library near you on

WorldCat
Epidemics: The Impact of Germs and Their Power over Humanity
Loomis, J. S. (2018), Santa Barbara: Praeger

Find it at a library near you on

WorldCat
"The Epidemic Spreads through the City"
Chan, A. H. W. and Kluge, H. F. (2006)
in

Anatomy of a Pandemic: The 1918 Influenza in Hamilton,

ed. Herring, D. A.
The Great Influenza: The Story of the Deadliest Pandemic in History
Barry, J. M. (2004), New York: Penguin Books

Find it at a library near you on

WorldCat
Nobody Here Will Harm You: Mass Medical Evacuation from the Eastern Arctic 1950–1965.
Selway, S. (2015), Hamilton: Wolsak and Wynn

Find it at a library near you on

WorldCat
"The North-South Divide: Social Inequality and Mortality from the 1918 Influenza Pandemic in Hamilton, Ontario"
Herring, D. A. and Korol, E. (2012)

In

Epidemic Encounters: Influenza, Society, and Culture in Canada, 1918-20,

ed. Magda Fahrni and Esyllt W. Jones

.

Vancouver: UBC Press

Access it on

MacSphere
The People and the Bay: A social and Environmental History of Hamilton Harbour
Bouchier, N. B., Cruikshank (2016), Vancouver: UBC Press

Find it at a library near you on

WorldCat
Puvaluqatatiluta, When We Had Tuberculosis: St. Luke's Mission Hospital and the Inuit of the Cumberland Sound Region, 1930–1972
Access it on
MacSphere
Credits and Acknowledgements
This virtual exhibition launched in 2021 as part of Hamilton 175, a digital commemoration of the 175th anniversary of Hamilton's incorporation as a city. We would like to thank the Hamilton 175 Advisory Group and the following individuals for their invaluable contributions to the exhibition development:
Adam Munro

Ian Kerr-Wilson

Kelly Dixon

Matt Pietryszyn

Richard Barlas
The exhibition team is grateful for the assistance and advice of Shawn Selway, Dr. Ann Herring, Shelly Hill and the staff of the City of Hamilton Urban Indigenous Strategies Office, and Shelley McKay and the staff of the Hamilton Public Library.