The Matriarchs - Hamilton's Old Oaks
Dundurn
Established in 1835, Dundurn National Historic Site is one of Hamilton's prized heritage locations. The Burlington ridge, upon which Dundurn Castle sits, is a shelf of land that separates Cootes Paradise from Hamilton Bay. As this location provides clear vantage points across both bodies of water, it was an important crossing and was also used as a strategic location during the war of 1812. York Boulevard, one of the key Indigenous trails that was part of the Great Path, runs through this location.
The Burlington ridge is also a strategic place for trees. Deep crevices on either side of the ridge protect old trees from wind, and create unique micro-climate conditions that shelter native tree species, such as Oaks. Dundurn Park contains several old Oaks, including Northern Red Oak (Quercus rubra), the slower growing White Oak (Quercus alba), and more rare Pin Oak (Quercus palustris).
The Urban Forest and Climate
Oak trees are the great architects of the urban forest. They are anchor trees that support other species, such as sugar maples, and create biological relationships with other trees that make the forest canopy stronger and more resilient. Oaks are long-lived trees and can remove incredible amounts of carbon from the atmosphere. They play a significant role in the uptake of water from the ground to regulate the climate and cool the air around them. They also provide habitat for more animals and forms of life than any other tree in our region. These landmark, matriarchal trees contain hidden information in their roots that can give us clues about times past and nurture new saplings to foster stronger urban forests.
At the centre of Dundurn Park, next to the garden, a lone Northern Red Oak stands surrounded by sugar maples. Heritage properties such as Dundurn Castle National Historic Site present key opportunities to rebuild habitat around ancient Oak tree species and restore ecological corridors in urban centres. Safe, walkable cities that support human life and biodiversity are key principles in building the ecologically resilient city of the 21st century.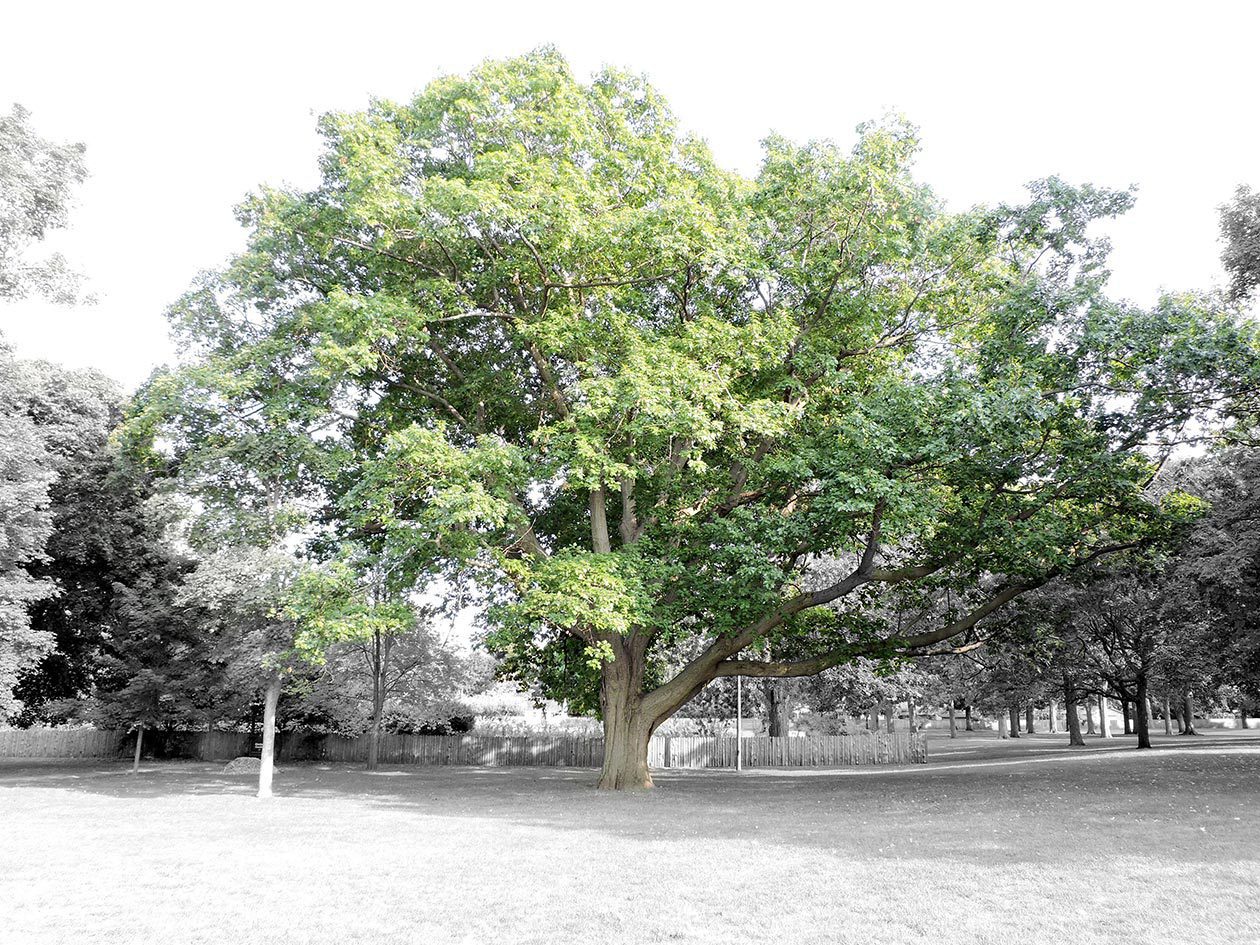 How Old?
The Old Oaks
Common Name: Northern Red Oak
Scientific Name: Quercus rubra
Approximate Age: 221 years
Measurements:  55 inches in diameter
The collections of Oaks that grow in Dundurn Park include Northern Red Oak, White Oak, and the less common Pin Oak. Within the sloped landscape behind the castle a series of monumental ancient trees reside, where they have been protected for several hundred years. It is important not to disturb the roots of these trees but they are visible from the ridge.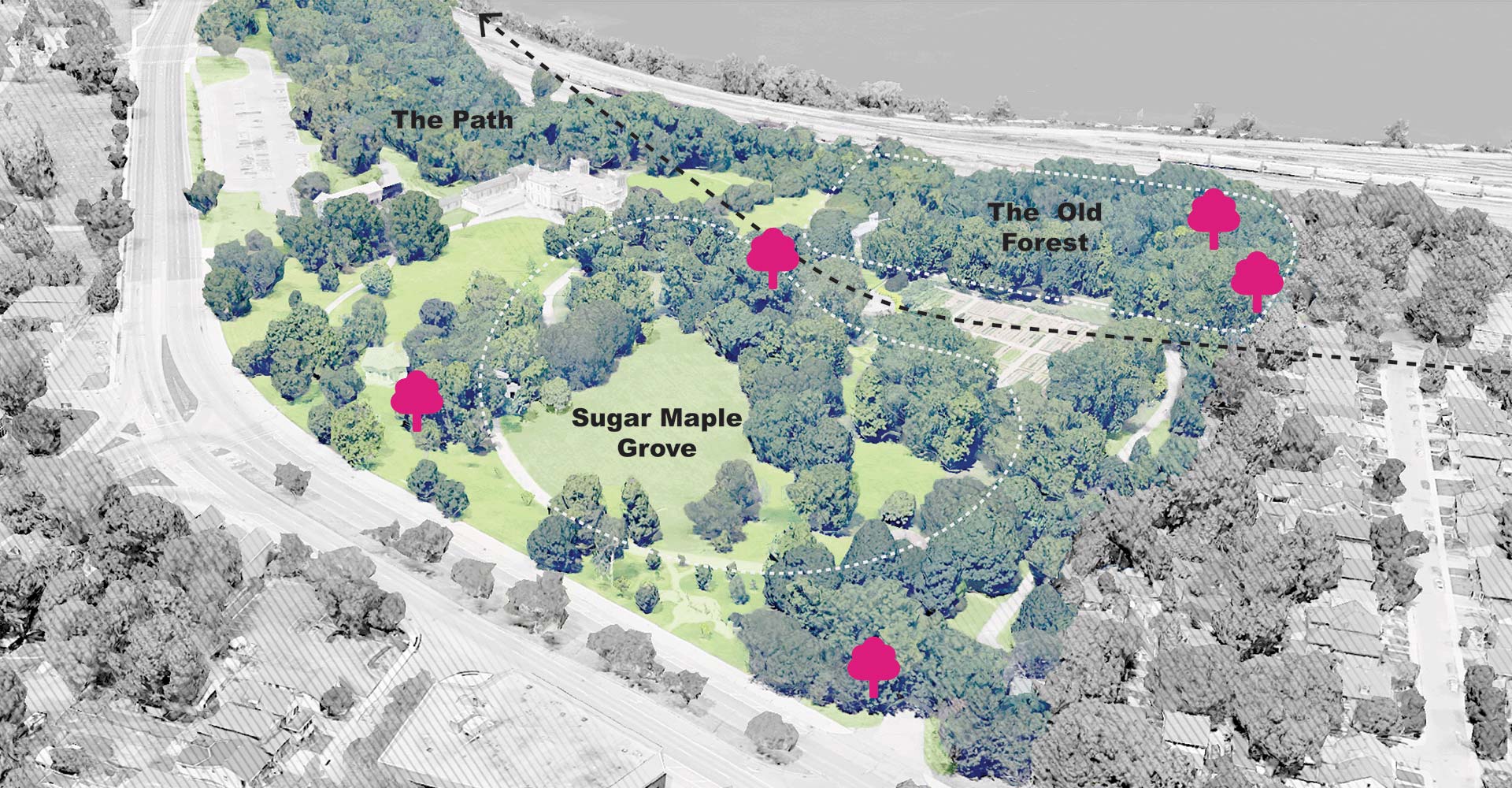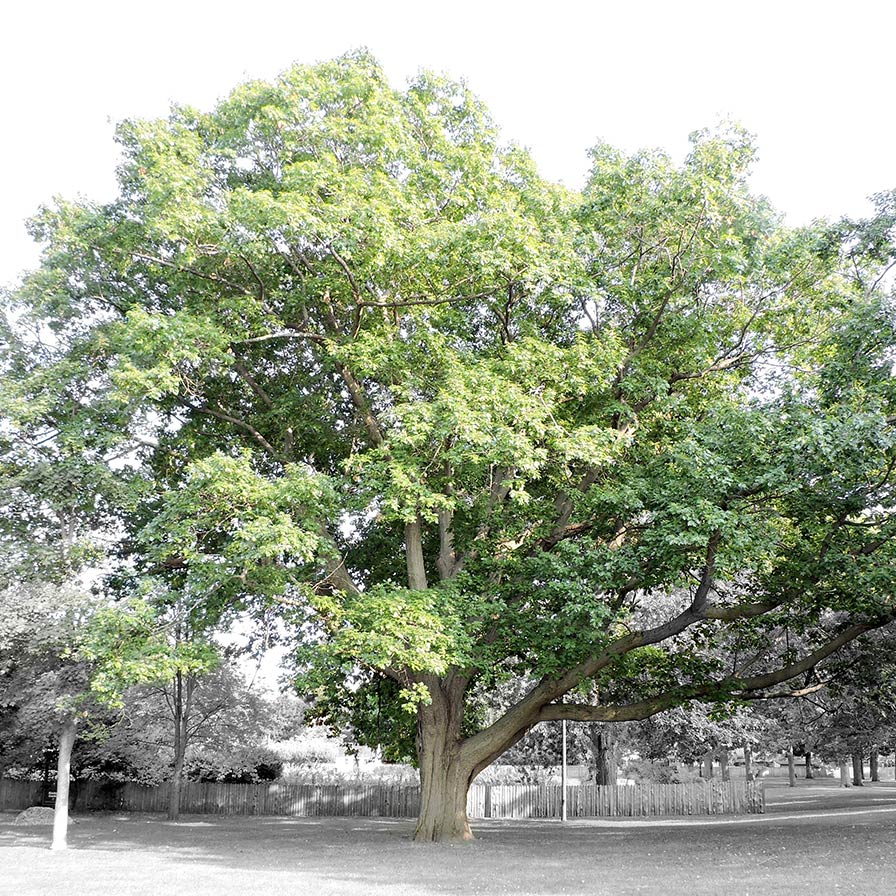 The Old Forest
At Dundurn, a remnant patch of the Carolinian Forest can be found wrapped around the ridge below Dundurn Castle, facing the Bay. This fragmented forest once supported the wetland systems in Cootes Paradise and in the RBG Valley.
Historically, these forested landscape patches would have been integrated and acted as thoroughfares for animal and plant life, while also forming a protective buffer around the Bay. Today, several very old trees can be found in these woods, a patch of old growth forest.
Protecting habitat around ancient Oak trees is a key step in building an ecologically resilient urban forest. Urban parks such as Dundurn National Historic Site present strategic opportunities to rebuild naturalized corridors that can support animal, plant and human life.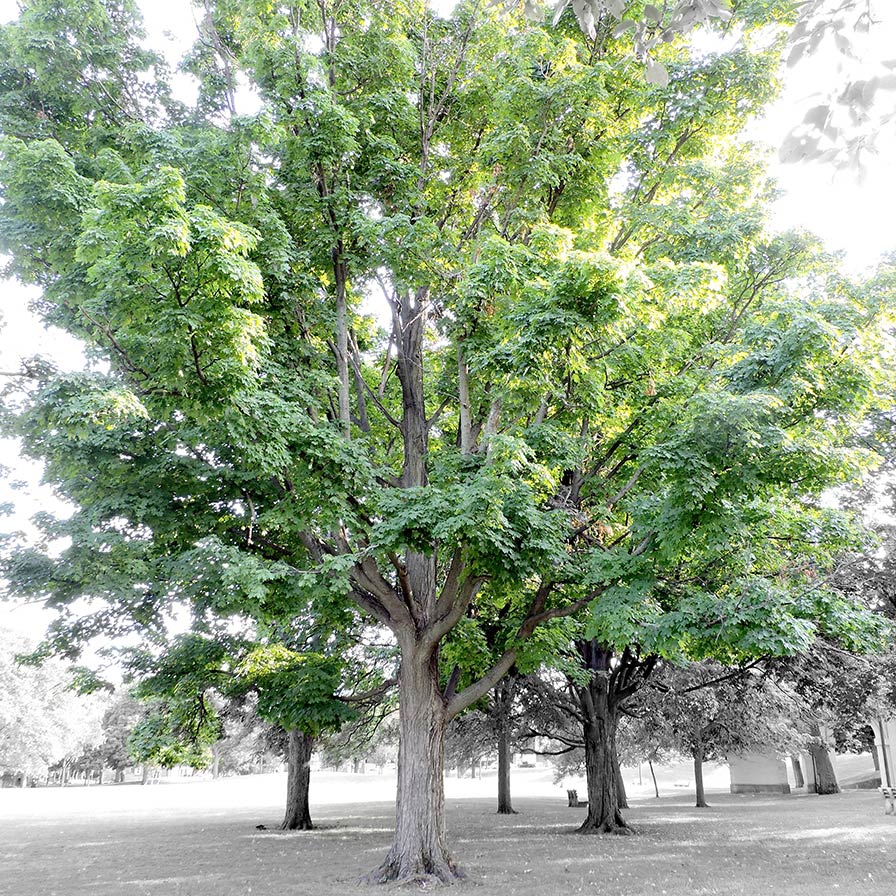 Sugar Maple Grove
 In the grassy open park at Dundurn Castle, a considerable number of Sugar Maples live close to the old Oaks on the heritage property.
Sugar Maples are becoming endangered in Ontario. Although their leaf is proudly displayed on our national flag, sugar maples struggle with urban pollution and are vulnerable to disease in the city. In healthy conditions, these are long-lived trees. Next to the Oak, they are a strong indicator species of an old growth forest environment.
The large number of sugar maples in Dundurn Park suggests a favourable growing environment for native species, and presents opportunity for ecological restoration of the park grounds.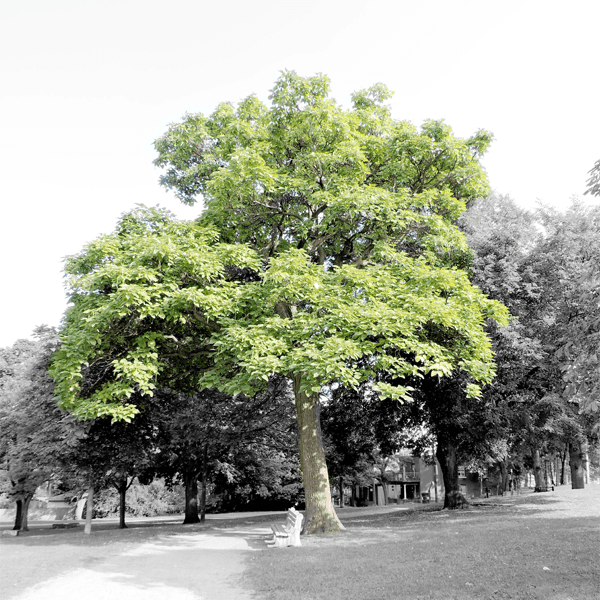 The Path
The Great Path was an intricate network of paths, portage routes and trails that linked trade routes throughout North America and carefully followed the geography of the landscape. The path along York Boulevard was the the primary means of travel through this savanna environment for many thousands of years.
As you walk through Dundurn Park, imagine the tall grasses rising high around your waist. The forest edge is darker, with formidable Oaks and Sugar Maple trees forming a canopy roof above. Within the forest, their roots form dense, rich mats beneath the soil, absorbing water and keeping the ridge from eroding.
Restoring the habitat on the grounds of Dundurn National Historic Site provides a strategic urban design opportunity to rebuild this central park as an ecological urban corridor.
Dundurn Heritage Tree Species
White Oak (Quercus macrocarpa)
Pin Oak (Quercus palustris)
Northern Red Oak (Quercus rubra)
Sugar Maple (Acer saccharum)
Northern Catalpa (Catalpa speciosa)
Tulip Tree (Liriodendron Tulipifera)
A Winding Path - What If?
Dundurn Castle sits as the halfway point between two central parts of our city - a vibrant, urban downtown centre and a significant conservation area. As many Hamiltonians know, it is challenging to walk to these areas on foot. What if a winding path in the woods behind Dundurn Castle extended over the rail line to Hamilton Bay, and connected the RBG with the city? Wouldn't it be wonderful to walk through the woods along a series of boardwalks from downtown, and stop at Dundurn Castle for a snack along the way to learn about Hamilton's ancient forests?
Explore Monument Trees In Your Classroom
Download the Trees that Speak Educator's Guide.
How to Grow a Forest
Stay tuned for the upcoming AR artwork, How to Grow a Forest.
An acorn is the nut of an Oak tree, and in areas where Oaks are abundant, they play an important role in forest ecology. These tough trees don't reproduce every year, but when they do - watch out! Oak trees can produce high numbers of acorns at once.  As these yields vary from year to year, acorns help control animal populations and their predators in forest ecosystems. Acorns have firm hats that act to protect the seedling inside the shell. These shells are called capules.