Monument Trees
Building Conservation Networks: An ecological approach to city building
The City of Hamilton is located in one of the world's richest and most biodiverse ecosystems, with 24% of Canada's biodiversity found in Hamilton alone. As cities become increasingly dense, pressure on urban habitat is growing. Protecting forests is key to our future. Monument Trees highlights ancient trees growing on Hamilton's heritage properties, and celebrates the wider cultural significance of old trees as living artifacts that are critical in the ecological function of our city.
The Cultural Landscape
Before the buildings and streets emerged in the early days of Hamilton's history, the landscape was made up of tall native grasses and large Oak trees spotted across an open plain. Nestled between the protective escarpment and the rich habitat in the Hamilton Bay, the ancient trees that grew here were enriched from moisture rising off the Lake. Part of this landscape once included open savanna that was made up of large Oaks and open grassland.
Today many North American cities like Hamilton are built within these former savannas. These lands were flat, and easy to build upon, as they were regularly burnt through natural phenomena and as a form of ecological practice by local Indigenous members of society to promote healthy ecology. These are early examples of cultural landscapes and create context for urban life in our region that predates the City of Hamilton.
In some parts of the city, such as at Dundurn National Historic Site and Auchmar Manor House, trees from this early period can still be found standing. These are our elder trees that stand as living monuments to our natural heritage.
Monument Trees in Hamilton Citywide
Hamilton has a rich history of heritage properties that include buildings, parks, and stone monuments. As icons of our natural heritage, Monument Trees also stand as living reminders of our region's natural history. Click on the map to learn about Monument Trees on heritage properties in Hamilton.
Ontario Heritage Act
What is the Ontario Heritage Act?
Under the Ontario Heritage Act, municipalities can pass bylaws to formally designate properties of cultural heritage value or interest. Formal designation of heritage properties is one way of publicly acknowledging a property's heritage value to a community.  Many protection and designation programs, such as the Ontario Heritage Act, focus on highlighting architectural legacies that are associated with the founding of nations. Yet, ancient trees in Hamilton are older than confederation. How might we protect these living historical assets?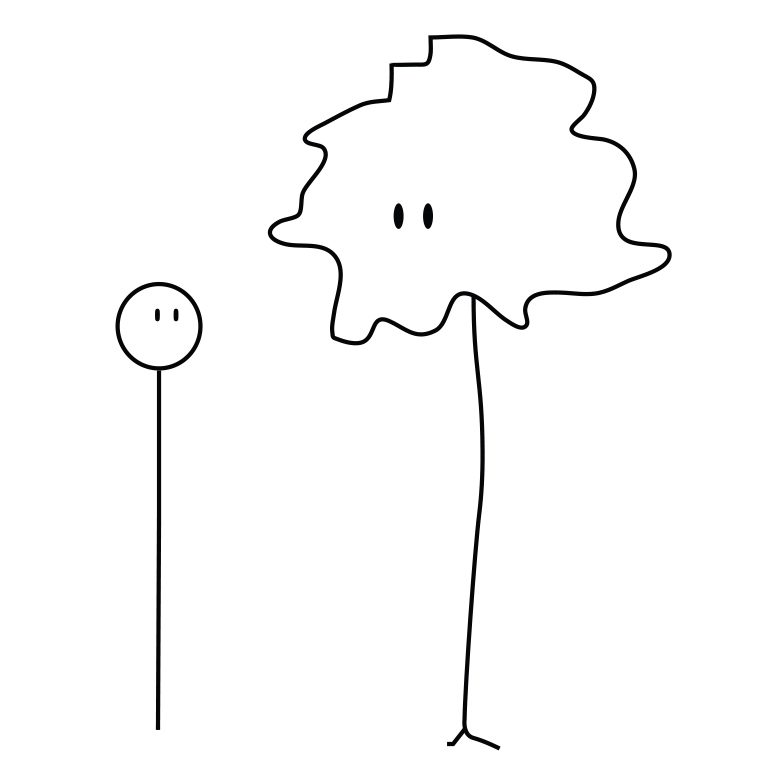 A Tree's Right to Life
Significant heritage properties are usually designated through association with a historical person. What are the limits of this type of heritage designation? If we consider trees as autonomous beings, like people, would this change the way we protect them?
New Criteria for Designation
The exhibition Monument Trees raises questions about a tree's right to life and the processes of designation that limit heritage status to a historic person, event, or a building. As an entry point for discussion, this exhibition provides suggestions for new criteria to recognize old-growth urban trees as a new type of living monument. This criteria frames a tree's role in the urban ecosystem, cultural history, and inherent value based on the five core principles of human rights as declared by the UN: dignity, fairness, equality, respect and independence.
species
diameter
canopy size
health
location near a surface or submerged water body (climate mitigation)
cultural significance
ecological role (matriarch)
carbon capacity
A Call to Action
Register your heritage tree. Do you have a Monument Tree growing on your property or in your neighbourhood? Get in touch and put your tree on the map.
Register Now
Get Involved
Become a Neighbourhood Forest Steward.

Find out how.
Join Today
Auchmar
Visit Auchmar Manor House to learn about the history of the trees that have called the grounds home for 200 years.


Explore the trees >
Dundurn
Dundurn National Historic Site is a popular gathering place in Hamilton, but did you know that Dundurn Park is also home to several significant Monument Trees?
Explore the trees >
Learn + Take Action
Climate change is a global issue that affects all of our communities. In this exhibit you can learn more about this issue and explore ways you can act to mitigate the impacts of climate change impacts on Hamilton. The Learn and Take Action section of this site includes learning resources for teachers, students and families.
Explore
Seed School - How to Grow a Forest 
How do trees propagate? In the city it is easy to forget about the important role seeds play in the forest. Seeds are our quiet companions in the city. We rake them up, drop maple keys and watch them spin and pull them from cracks in the sidewalk when they become a nuisance. Stay tuned for the an upcoming AR component of Monument Trees, entitled How to Grow a Forest, to learn more about how to care for tree seeds.
The forthcoming AR artwork will serve as an intermediary space between the landscape and the classroom. Through interactive virtual media, children will be able to share their stories and learn about the urban forest.
Explore Monument Trees in your classroom with the Trees that Speak Educator's Guide.                                     
Lesia Mokrycke is an interdisciplinary artist and landscape designer who founded Tropos as a space for new forms of practice in art, landscape architecture and urban design. Her current work, Building Conservation Networks is spearheading new and innovative approaches to conservation in urban areas. As an interdisciplinary art and urban design initiative, Lesia's project began in 2018 as part of her graduate research, and was further developed through a grant she received from the Canada Council for the Arts, Research and Creation component. The work builds on previous work in Lesia's practice as a public artist to bridge art and landscape architecture and foster new approaches to creative engagement, ecology, and social practice that enhance the urban forest.
Building Conservation Networks is a creative urban design and public art project that identifies historic, monumental trees as key anchors in the ecological and cultural life of the city. This large scale art and urban design project presents a strategy for restoration through new models of conservation that can enhance the urban forest. The exhibition titled, Monument Trees is the first part of this work and focuses on documenting and celebrating the rich history and heritage of our city's oldest living monuments. These landmark, matriarchal trees contain hidden information in their roots that can give us information about times past and nurture new sapplings to foster stronger and more resilient urban forests. Through mapping the location of these pre-settlement trees across the city, Lesia's work with Building Conservation Networks is laying the groundwork to create a more ecologically resilient city that can withstand coming changes in the climate
Author and Artist - Lesia Mokrycke                                         
Sponsor - We acknowledge the support of the Canada Council for the Arts in the development of Building Conservation Networks and Monument Trees. canadacouncil.ca / Nous remercions le Conseil des arts du Canada de son soutien.  
Community Partner and Indigenous Specialist - Paul General, Former Head of Six Nations Eco-Centre
Field Assistants - Sophie Williams, Elizabeth Ward

Special Thanks - Cathy Plotz at Hamilton Conservation Authority, Kathy Renwald with CBC Hamilton, Education team at the Royal Botanical Gardens, City of Hamilton Culture and Heritage Department, Hamilton Naturalists Club, Downtown AM Rotary Club of Hamilton, Downtown Sparrow, Justin Chandler at TVO, and each member of the Hamilton community who has contributed a tree to this project.