Jewel of the Forest, Liriodendron Tulipifera
Auchmar
Hamilton's Auchmar Manor House dates back to 1855 and has a significant history in the City of Hamilton's cultural landscape. Although the Manor House is an important architectural landmark, the designation of the property as a heritage site has also preserved several pre-settlement trees on the property.
Tucked within the shadows of Auchmar's grounds, a large tulip tree can be found growing in a remnant patch of forest, among other significant native tree species. Large hardwood trees such as Liriodendron Tulipifera play an important role in the forest ecosystem and in the pollination cycle. Tulip trees support a wide variety of biodiversity and are an important keystone species in the Carolinian forest, of which Hamilton is an essential part.
Heritage properties such as Auchmar present decisive opportunities to restore woodland around these trees to support the wider urban forest. Monument Trees are critical to life in the city because they anchor our communities, have a significant impact on reducing carbon emissions and help us to lead healthier lives.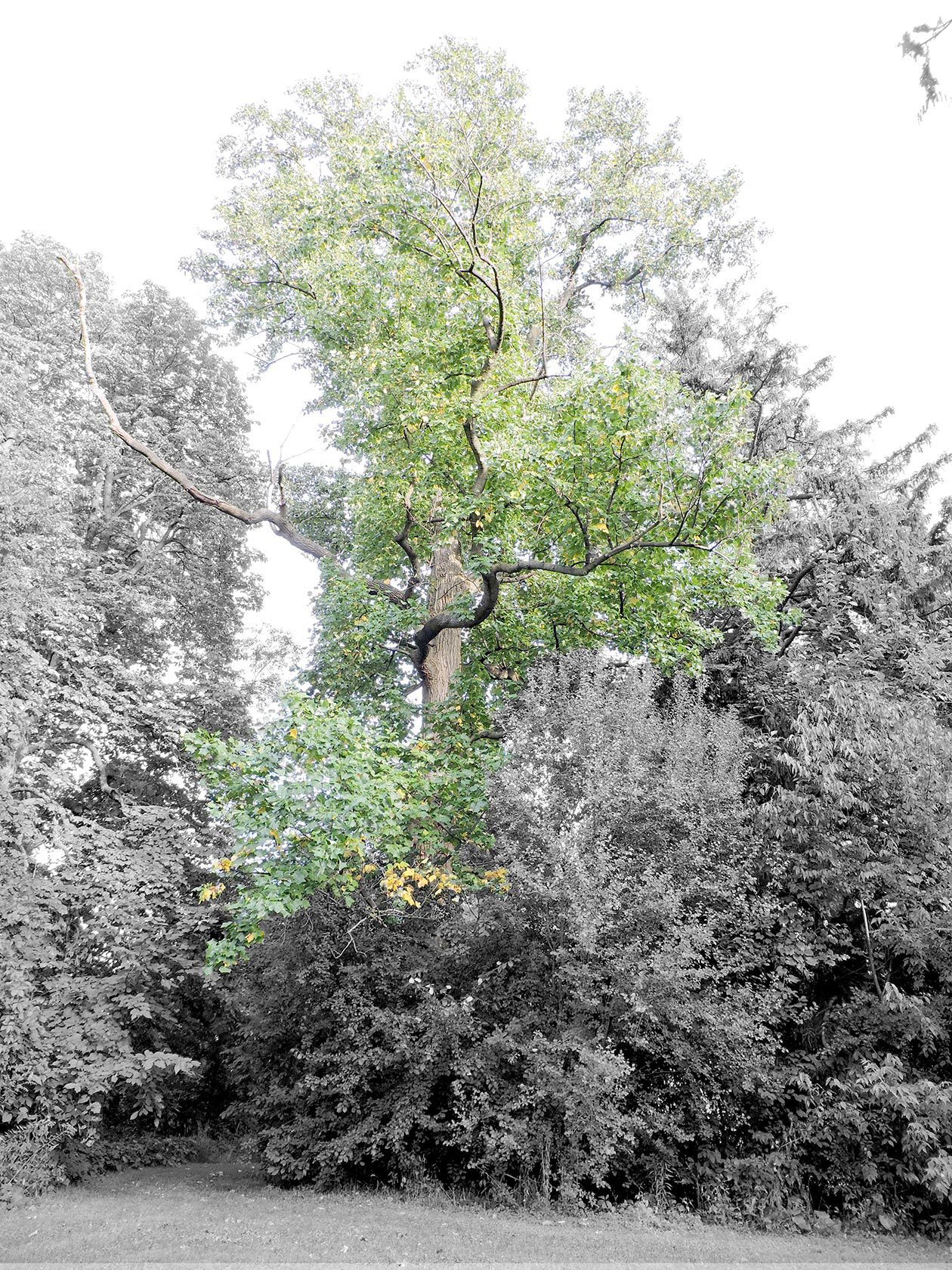 How Old?
The Tulip Tree
Common Name: Tulip Tree
Scientific Name: Liriodendron Tulipifera
Measurements: 41 inches diameter
Approximate Age: 125 years
Liriodendron Tulipifera is part of the Magnolia family. The tree grows quickly and is one of the tallest and most beautiful Eastern hardwoods in the forest, producing large cat-faced leaves and fragrant flowers. Their blooms attract pollinator species such as native bees, songbirds, and hummingbirds.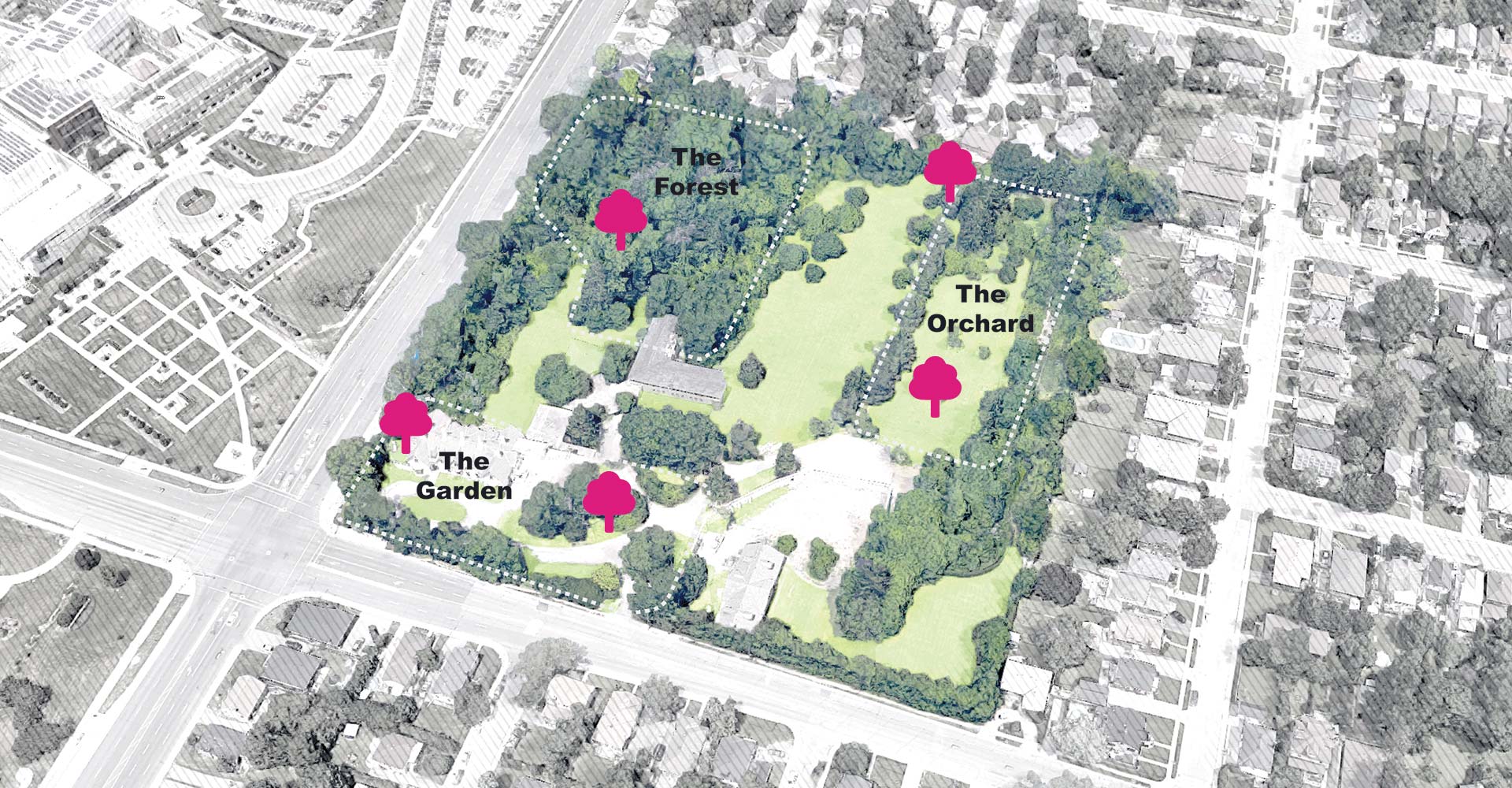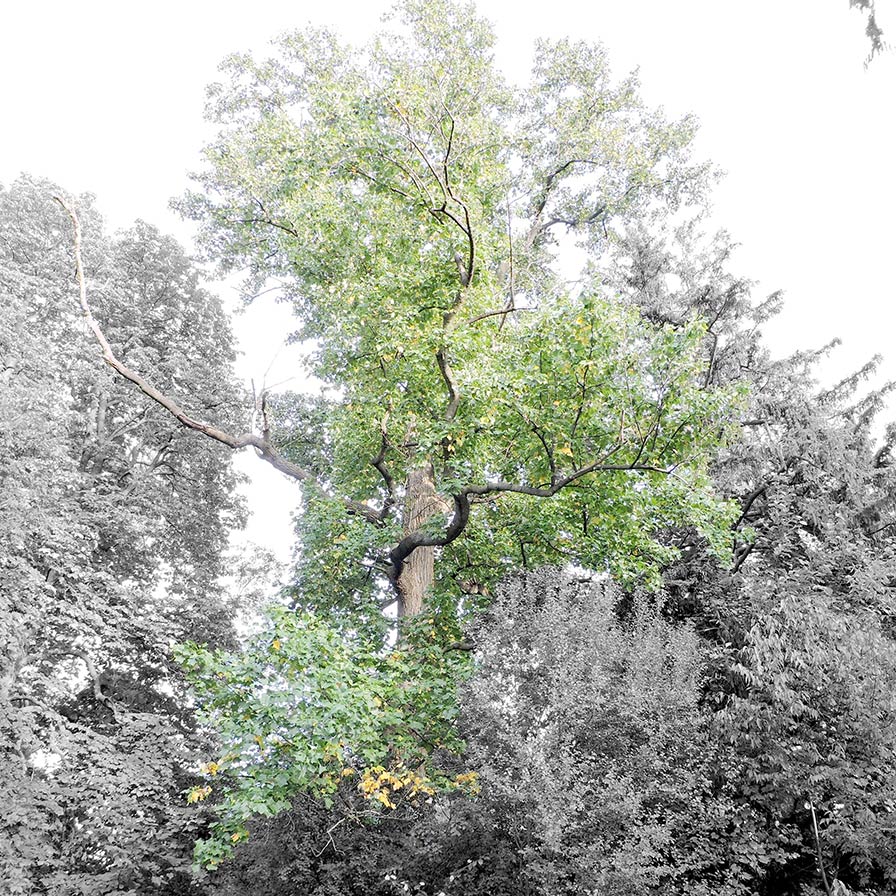 The Forest
The Carolinian life zone is a unique ecosystem that stretches from Georgia to the Niagara Escarpment. The Niagara Escarpment is the northeastern edge of this deciduous forest range in Eastern North America. Carolinian forests once covered parts of the Hamilton mountain and stretched into the Dundas Valley.
Liriodendron Tulipifera, one of the tallest trees in the Carolinian forest, can grow to 200 feet tall in certain areas of the United States, such as in Pennsylvania. In our region, colder temperatures limit the tree's growth and it is found in sparser numbers. However this doesn't stop the tree from being one of the tallest in Southern Ontario.
In the small patch of forest at Auchmar Manor House, the tulip tree towers above the others on the property. Be careful not to get to close, this tree needs moist, rich soil and can be compromised by heavy foot traffic.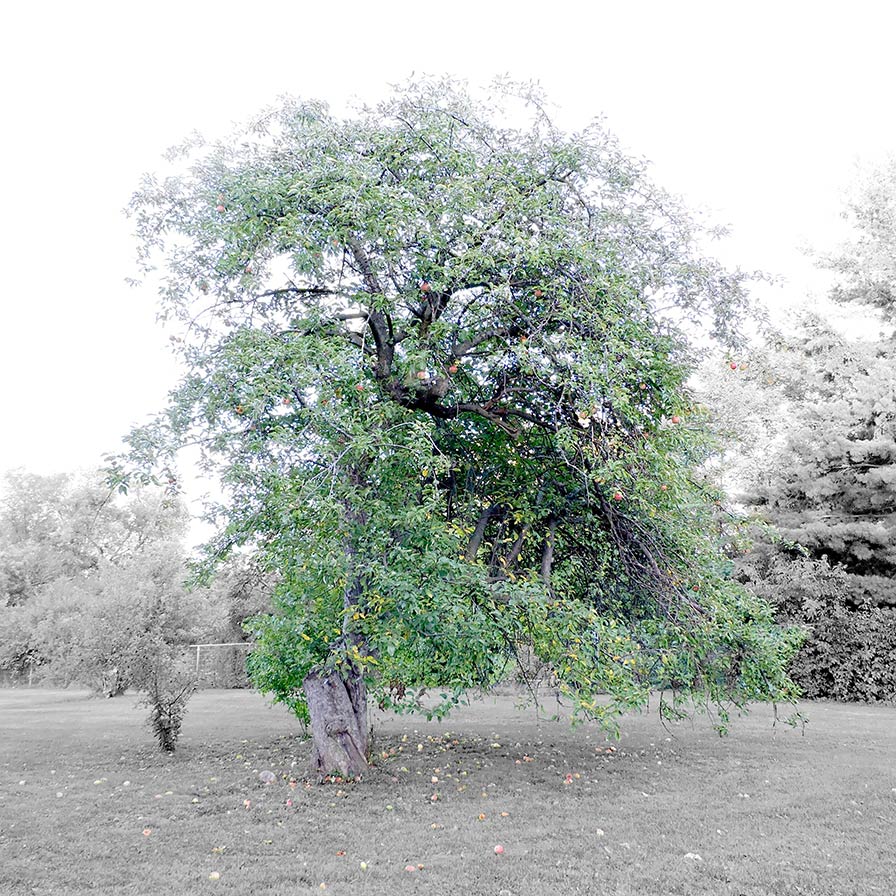 The Orchard
During the 18th and 19th centuries in Hamilton, farming cleared some of these ancient forests and estate properties were built on the grounds, such as at Auchmar Manor House. Many of these farms included heritage apples and fruit trees that are still prized today.
In some parts of Hamilton, a mix of Carolinian forest species and orchard trees can be found growing together. Today we know that trees such as the tulip tree support native pollinator species and have a positive impact on agriculture. These trees help thousands of other plants reproduce and play an important role in our food system.
At Auchmar, the orchard and forest stand next to one another and support this essential function of earth's terrestrial ecosystems, an important factor in mitigating climate change and promoting food diversity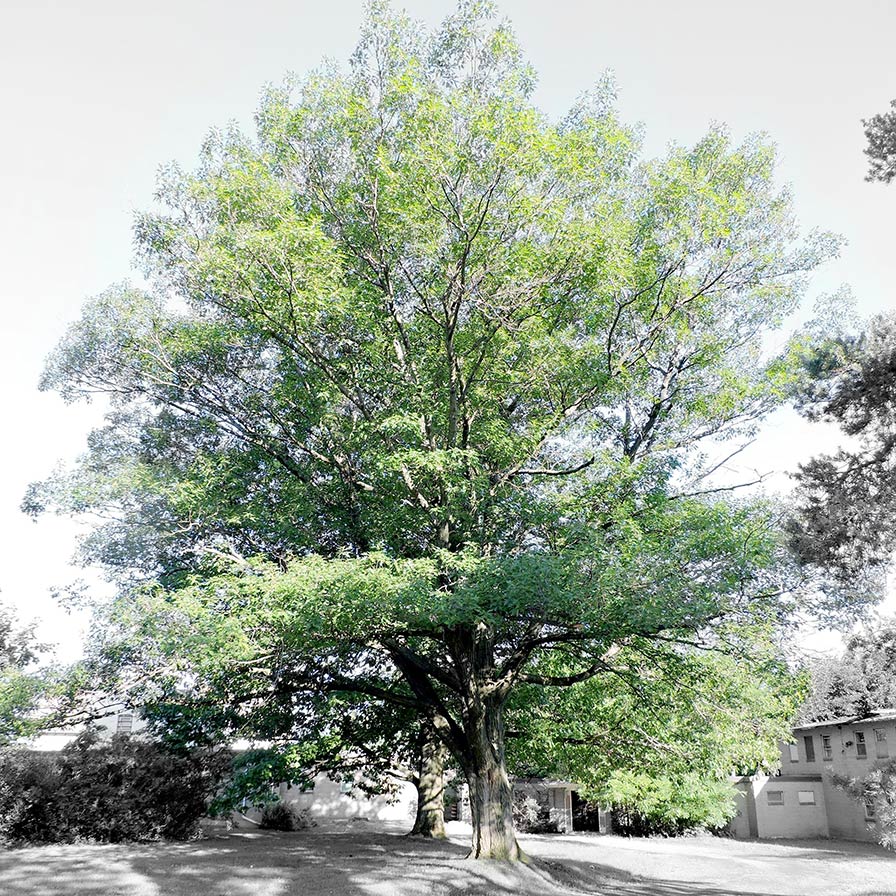 The Garden
Architectural heritage and the early days of landscape design in Hamilton often included gardens planted around an estate home. We sometimes think of these spaces as separate - ancient forests and gardens - but they represent different time periods in a landscape's cultural history.
These gardens often reflected the heritage of a family who owned the estate. They borrowed plants, forms, and styles from 19th century English and French garden design, yet often included large North American trees, like Northern Red Oak (Quercus rubra).
At Auchmar Manor House, two large Northern Red Oaks can be found growing next to the estate home.
Auchmar Heritage Tree Species
Northern Red Oak (Quercus rubra)
Bur Oak (Quercus macrocarpa)
Sugar Maple (Acer saccharum)
Tulip Tree (Liriodendron Tulipifera)
Slippery Elm (Ulmus rubra)
Paradise Apple (Malus pumila)
Farm to Table Marketplace, Preserving a Cultural Legacy – What if?
Imagine what it would be like to walk through a restored part of the Carolinian forest at Auchmar Manor House, visit a farm-to-table restaurant serving local harvests in the mansion, and shop at an open air farmer's market in the stone courtyard. All on the Hamilton mountain! A key part of making cities more resilient to climate change includes restoring urban habitat, walking to our neighbourhood shops, and buying local produce. Wouldn't it be wonderful to spend a Saturday morning at Auchmar Orchard picking apples and buying your vegetables in the open-air courtyard?
Explore Monument Trees In Your Classroom
Download the Trees that Speak Educator's Guide.
How to Grow a Forest
Stay tuned for the upcoming AR artwork, How to Grow a Forest.
Can you spot the flowers on the tulip tree? Tulip tree flowers resemble tulips and are one of the most beautiful flowers in the Carolinian forest. Tulip flowers are greenish-yellowish in colour with a splash of orange in the centre. They point upwards toward the sky and bloom in May to June. These flowers produce fruit in the fall in the form of samaras. These winged 'seeds-in-a-cone' like structures take flight in the fall to produce new tulip trees.